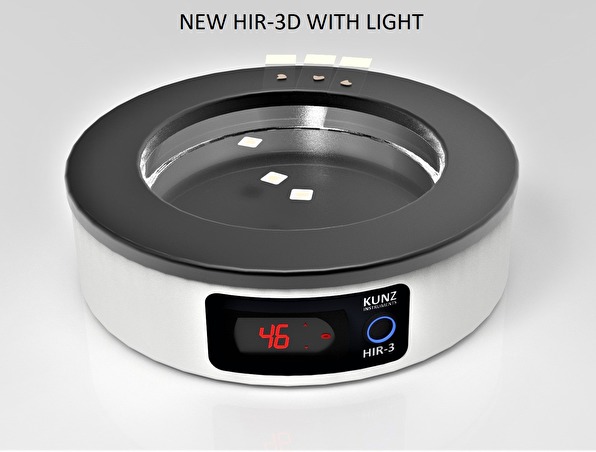 Histo bath HIR-3D
LED-light in the water: gives excellent visibility

Large round warm area: drying up to 27 slides

No need for extra heating plate

Easy to use: digital touch control
Low weight: easy and convenient to carry and empty the water
The round Histo bath HIR-3D is designed to efficiently remove wrinkles and distortions in paraffin wax sections, after the sectioning work.

A LED-light under the water surface gives excellent visibilty and contrast. The quality of the section cut is easier to see. Dust and dirt on the water surface shows much better. The bright light is positioned to shine away from the user and improves the visibility of the floating sections.

The low profile gives good ergonomic conditions, good view and safe handling of the sections. The unit has a round large warm surface for drying slides, up to 27 standard slides.

An optional lid (art no. 200149) is available to cover the water. It prevents evaporation and dust contamination when the unit is not in use. It also makes it easier to carry the unit when emptying the water.

Specifications:
Mains power: 220-240VAC 50-60Hz
Power consumption: 260W
Temperature range: +20 to +80°C
Temp. accuracy: ± 1°C
Water volume: 2,0L
Internal dimensions: Diameter: 217mm, Depth: 61mm
External dimensions: Diameter: 323mm, Height: 88mm
Weight: 1,4kg