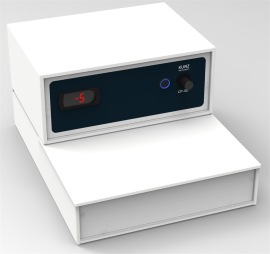 Cooling Plate CP-4D
Reliable and affordable

Unique adjustable temperature

Temperature down to -18°C

Cooling area for up to 60 wax blocks/cassettes
The Kunz Cooling Plate, for cooling down paraffin-embedded biopsies, is made of polyester coated aluminium. The cooling plate is a module in the series of apparatus that comprises the well-known Kunz Embedding Centre.

The cooling plate ensures fast and effective cooling of biopsy blocks after embedding and during sectioning. The unit contains a complete cooling system with compressor, adjustable temperature regulator, fan and digital display.

Specifications:
Mains Voltage: 230 V 50 Hz
Consumption: max. 250 W
Temperature range at room temperature +20°C: adjustable from +15°C to -18°C

Dimensions:
Dimensions outer: (HxWxD) 255 mm x 350 mm x 465 mm
Dimensions work area: (HxWxD) 105 mm x 350 mm x 205 mm
Weight: 15.5 kg.